DISCOVER HOW TO ACTIVATE YOUR METABOLIC MAGIC To GET FIT FAST
UNLOCK YOUR BODY'S TRUE FAT BURNING POTENTIAL
Introducing a superior nutrition and training program that will totally transform the way you look and feel fast.  It's easy, too!
GIVE YOUR METABOLISM WHAT IT NEEDS AND YOU CAN GET RAPID RESULTS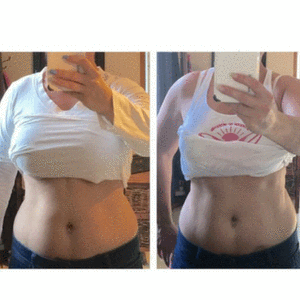 "This program did more for me in 4 weeks, than I did on my own in 4 months.  I have tons of energy, my bloat is gone, I sleep like a baby, and I'm down 14 pounds my first month.  You are my hero, Christina.  I've never been able to stick to diets but this was different and worked just like you said it would. Thank you!"
TRICIA KOVACS, 37 - FLORENCE, South Carolina
DITCH DIETS AND OVERLY INTENSE WORKOUTS AND 
GET FIT FASTER

I know what you're thinking…
"Oh, great.  Another online fitness guru with a trendy new diet and crazy workout program."
*Rolls eyes* *Makes a gagging motion* *Crosses arms and pops hip* Settle down, Tiger.
But hey, I totally get where you're coming from.
LET ME GUESS…


You've tried every diet & exercise plan under the sun, only to have one of these things happen…
•  You lose a little weight but gain it back (plus more)
•  The diet was too restrictive, complicated, or didn't taste good
•  Your cravings were too intense and you quit before you really started
•  The workouts were too hard, time-consuming, or hurt your joints
•  You didn't feel or look any different
I've been through all of the above.  And it sucked big time.
The struggle is real, my friend. 
Once upon a time, I was 40 pounds overweight, on 7 medications, and chronically sad, sick, and insecure.
I got into health and fitness because nobody else could help me navigate my health issues and make me look like Britney Spears circa 2002. 
I wanted to lose weight and never gain it back.  I figured out how and now I show others how to get fit for life, too.
I'm 10+ years deep into my nutrition and training coaching career… but don't call me 'guru' (it creeps me out.)
Think of me as your Coach and Biggest Cheerleader.  
As your coach, I can't be successful, unless YOU are.  
And I'm the kind of coach that wants to win the championship and will treat you like an all-star MVP.  Deal?
Now, as my MVP, I'll never tell you to diet because…
THIS IS NOT A DIET BECAUSE,
DIETS DON'T WORK
Diets are designed to be temporary, can screw with your metabolism, hormones, gut health, and make it harder for you to burn fat.
Ever follow a diet but still struggled with cravings, fatigue, bloating, and barely noticeable results? 
Yeah… me too.  We can't win like that, my friend so say sayonara to diets forever! 
NOT ALL WORKOUTS WORK WELL FOR FAT LOSS
A lot of workouts out there have you jumping around like a hyper-caffeinated kangaroo for an hour…  
But, long, intense workouts can increase inflammation and cortisol (hello, stubborn belly fat)… which can make it harder to build toned muscle and lose fat.
When you only do high-intensity workouts, over time your body will adapt… which sets you up for rapid regain if you ever stop exercising in the future.
Plus, the harder a workout is, the harder it is to get motivated to do it. 
BOTTOM LINE

It's A LOT harder to make your body goals happen with diets and overly-intense workouts.  But don't worry…
The Total Transformation program will show you how to avoid making mistakes that make it harder to burn fat so you can get results fast!
WHAT PEOPLE SAY ABOUT THE TOTAL TRANSFORMATION PROGRAM
screenshots of emails from Total Transformation Participants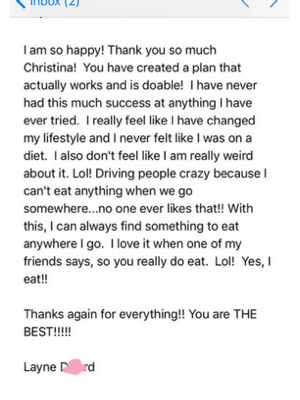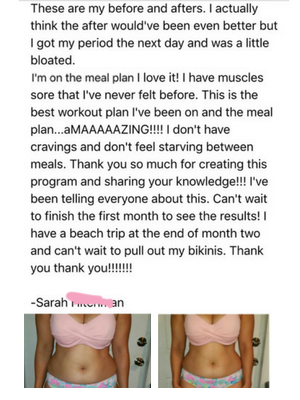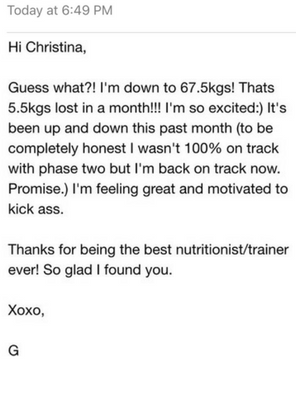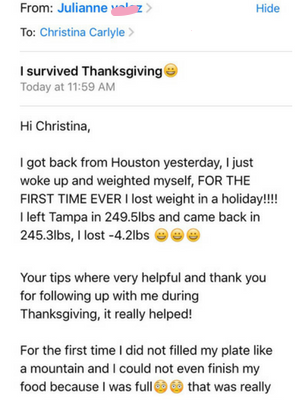 THIS PROGRAM MAKES IT EASY TO GET RESULTS,
NOT HARDER
I created this nutrition and training program so you can:
♥  Exercise less
♥  Get fit
♥  Gain back energy, self-control, and confidence
♥  Get noticeable results quickly
♥  Strut confidently in your bathing suit
♥  Make this your lifestyle so you'll lose weight and keep it off
Traditional diets and exercise programs don't do that.
They also don't help clear up other pesky health issues like bloating, hormone imbalances, breakouts, aches, and pains.
The Total Transformation Program does.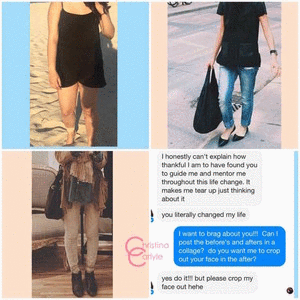 Total Transformation results
"I've struggled with acne, bloating, and stubborn fat for as long as I can remember and never really got tone no matter what I tried.  I started in February.  After 2 weeks, my bloating and acne was basically gone.  I felt more energy and clear-headed too which made it easier to stay focused.  After 4 weeks, I had lost 9 pounds and felt smaller all over.  By April, I was down 18 pounds.  I had to buy all new clothes.  Everything was too baggy – even my underwear was loose!!   My ex used to make comments about my body and skin that made me feel like crap.  I randomly saw him out the other day and his jaw literally dropped when he saw me.  He looked shocked and kept saying how great I looked.  It was one of the greatest moments of my life!!!!  😀  I can't thank you enough for this program!!  It literally transformed me!"
BECKY SCHWARTZ, 26
WHAT MAKES THE TOTAL TRANSFORMATION PROGRAM DIFFERENT?
IT'S LIKE 10 programs in one!
Weight loss isn't as simple as calories in versus calories out. 
There are 10 things that make it harder to feel awesome, get fit, and burn fat.  
They are:
•  Imbalanced Energy Exchange
•  Out-of-whack Hormones
•  Unstable Blood Sugar Levels
•  Inflammation
•  Adrenal Insufficiency 
•  Toxic Buildup
•  Nutrient Deficiencies
•  Allergy (histamine) and other Auto-immune reactions 
•  Leaky Gut
•  Imbalanced Gut Microbiome
There are different nutrition and training protocols you can use to overcome each of these issues.  
I combined the BEST, most effective protocols, into one powerful program that addresses everything at once!
This one-of-a-kind program can activate your metabolism's true fat burning potential and totally transform the way you look and feel fast!
But that's not all… 
The Total Transformation Program CAN also:

♥  Increase energy levels
♥  Boost mood so you feel more positive
♥  Clear up skin conditions
♥  Reduce food cravings
♥  Regulate hunger
♥  Banish bloat
♥  Reduce aches and pain
♥  Greatly improve digestive issues
♥  Help you get deeper, more restful sleep
TYPICAL DIETS AND WORKOUTS PROGRAMS DON'T DO THIS

THE TOTAL TRANSFORMATION PROGRAM DOES
WHAT PEOPLE SAY ABOUT THE TOTAL TRANSFORMATION PROGRAM
screenshots of emails from Total Transformation Participants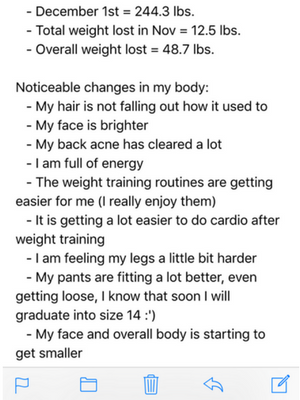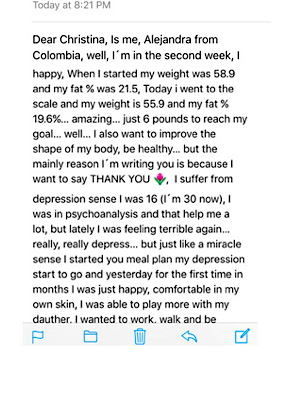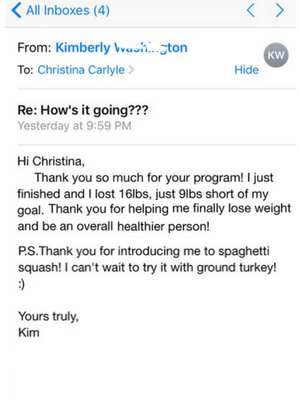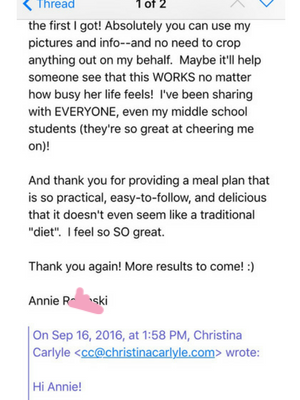 EAT LIKE A FIT FOODIE AND TRANSFORM FAST WITH FOOD
WHAT MAKES THE MEAL PLAN MAGICAL

  Discover how to eat to activate metabolic functions and gene expression so you can burn fat, get fit, and transform from the inside out

  You'll eat reprogram your biology to stop cravings and feel more satisfied, full and in control of food effortlessly

  The meal plan helps reduce bloat, and fatigue and boost the metabolism, motivation, energy, and self-control

  You'll learn how to make meals that burn calories automatically every time you eat them

  It shows you how to eat delicious meals that reverse oxidative damage and inflammation to help reverse pesky aches, pains, and pre-mature aging

  You'll eat to boost alkalinity and immunity so you can feel energized, healthy, and happy in your body
BURN FAT AND GET TONE WITH LESS EFFORT & EXERCISE
WHY THE WORKOUTS WORK WELL

  You'll learn my transformative training method that'll help you tone up with less time and effort

  Every workout is different and targets trouble areas strategically so you can sculpt your dream body

  They help you burn fat during the workout and continue to burn fat for hours after you're done, too  

  The workouts work with the meal plan to help you burn more body fat for fuel instead of food (or muscle!)

  The meal plan helps nourish your muscles so you can recover quickly and get better results

  They'll help you avoid spiking cortisol so you can burn stubborn fat, feel energized, get tight and tone up
ALL IT TAKES IS 4 EASY STEPS TO TOTALLY TRANSFORM YOUR BODY
EAT
Enjoy delicious easy-to make meals, that literally program the body and hormones to burn fat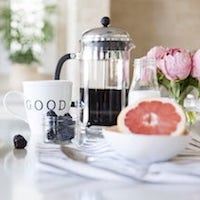 DRINK
Discover how to sip smart to feel more energized, metabolism and regulate hunger and hormones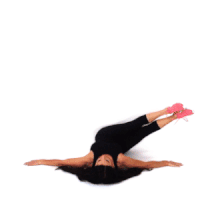 MOVE
Burn fat and tone up with energizing workouts that won't kill you or your joints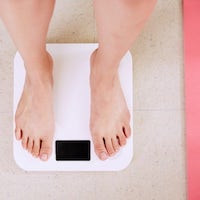 SHRINK
See your fat, cellulite, pesky health issues, and insecurities fade away week after week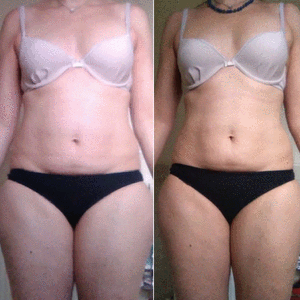 "This the best program I've ever tried.  I love the meal plan!!  It's so easy to follow.  The recipes are great and my husband and kids like them, too.  The workouts don't hurt my knees either.  My back pain went away after the 1st week.  I've lost 13 pounds my first 4 weeks.  I'm so excited to keep going.  I feel like I can stick with this forever.  I wish I would have found you years ago!  Thank you so much for being the best nutritionist, trainer, coach, and cheerleader ever!"
PatTY Robertson, 34 - Englewood, Florida
GET EVERYTHING YOU NEED TO TRANSFORM YOUR BODY
THE COMPLETE TOTAL TRANSFORMATION PROGRAM includes:

THE MEAL PLAN
Transform your body with finger-lickin' good food! The meal plan will supercharge your metabolism so you can burn fat and get healthy. ($197 Value)
THE EXERCISE PROGRAM
This complete 4-week cardio and weight training exercise program.  You can login to follow along with the workouts online or print them, too.  ($47 Value)
THE SHOPPING LIST
A handy list of the best fat-fighting foods with must-have nutrients proven to boost the metabolism.
2 SAMPLE MEAL PLANS

You'll get 2, 4-week sample meal plans.  One has animal proteins, the other is Vegan/Vegetarian.
SO MUCH MORE!
You'll get Meal Planning Templates, Transformation Tips, meal prep, restaurant and travel tips, so you can save time, money and work the program everywhere.
LOVE FOOD?  YOU'RE GOING TO LOVE THIS PROGRAM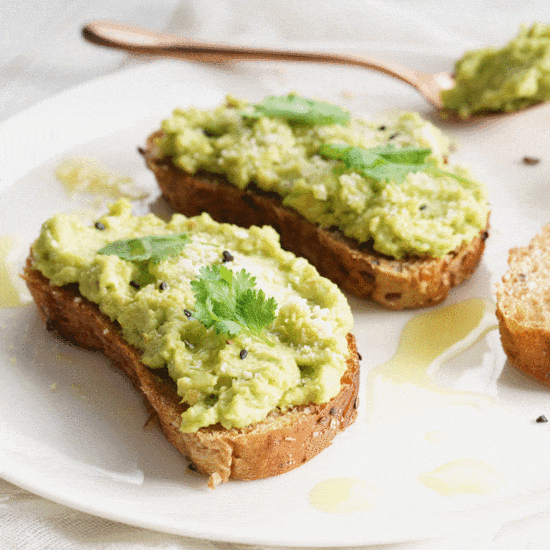 THE Total TransformAtion COOKBOOK
The Total Transformation Cookbook has over 70 recipes that taste great, take less than 30 minutes to make, and use easy-to-find, affordable ingredients.  (A $37 Value)
  BONUS VEGAN COOKBOOK
The Vegan cookbook has delicious plant-based recipes packed with nutrients, protein, fiber, and flavor.
  BONUS DESSERT COOKBOOK
The bonus dessert cookbook has delicious nutritious dessert recipes that are actually good for you!
START NOW AND YOU'll ALSO GET THESE BONUSES 
BONUS GOAL SETTING SUCCESS GUIDE
This guide will help you get motivated and stay motivated throughout your transformation. ($17 Value)
BONUS DIRECT EMAIL SUPPORT
You'll have email access to me so I can answer your questions, make modifications if needed, and give you the support you need to be successful. ($97 Value)
BONUS TRANSFORMATION TRACKER
Track your progress like a pro with this handy guide that'll help you stay on target for your body goals.
BONUS COACHING VIDEOS
The entire program comes with coaching videos that explain how the program works and how to tailor the program to suit you perfectly!  ($295 Value)
GET THE TOTAL TRANSFORMATION PROGRAM & BONUSES, A $997+ VALUE –
FOR ONLY 

$97

 NOW
WHAT PEOPLE SAY ABOUT THE TOTAL TRANSFORMATION PROGRAM
screenshots of emails from Total Transformation PROGRAM Participants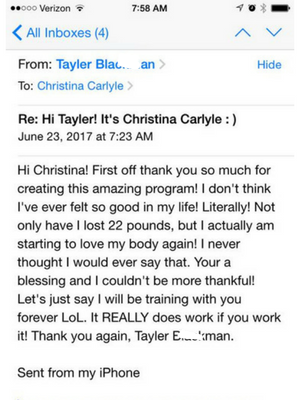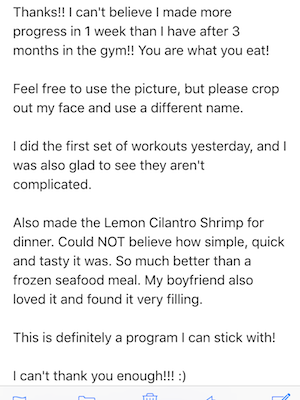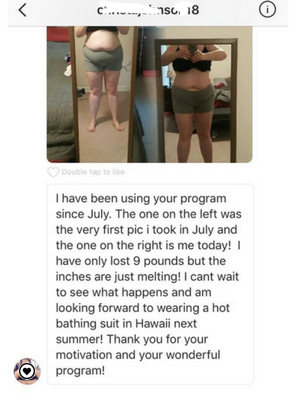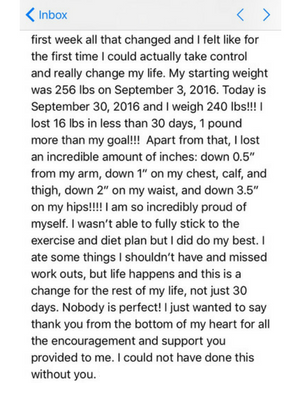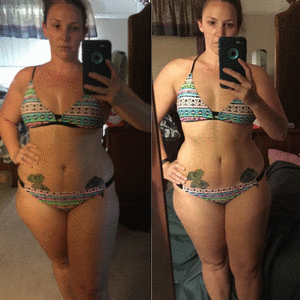 "I was so skeptical to try this program but I'm so glad I did!!!!   I don't crave food or feel hungry all the time like I used to.  My energy is way up.  I don't feel exhausted every afternoon anymore.  My eczema cleared up and I lost 12 pounds in 4 weeks.  That's more than I lost in 2 months with my trainer!!  Your program made me more toned like I wanted, not big and bulky!  Thank you!"
Carla CONNERS, 25 - Palentine, Illinois
WHAT MAKES THIS PROGRAM SO AWESOME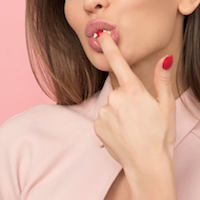 CUSTOMIZATION
Don't like certain foods?  Are some exercises off limits? No problem! You can customize the program so it's perfect for you.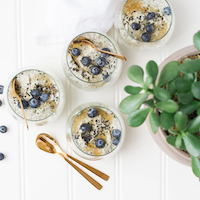 HEALTHY FAST FOOD
The meals are tasty, nutritious, and take less than 30 minutes to make – You also get over 100 recipes you'll love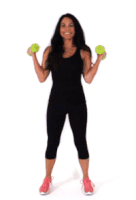 IT'S Do-able
This program was created for busy people.  It's easy, actionable, and effective so can start getting (and loving your) results ASAP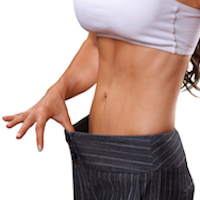 IT WORKS!
This program is proven, backed by science and has been used by thousands of women around the world –  It works when you do
COMMON QUESTIONS ABOUT THE TOTAL TRANSFORMATION PROGRAM
WHAT IF I CAN'T EAT (or don't like) CERTAIN THINGS?
You can follow the meal plan if you're vegan, vegetarian, gluten-free, dairy-free, have food allergies or are a picky eater, too. There are dozens of food options on the shopping list, recipes, and modifications included so you can customize the meal plan to make it perfect for you and still get the same results.
WHAT IF I CAN'T DO CERTAIN EXERCISES?
No problem!  There are dozens of different exercises included, so if you find something you can't do, simply swap it out with another exercise from the exercise database that you can do instead.  Plus, the meal plan is very effective on it's own and will help you lose fat if you're unable to exercise or miss a few workouts.
ARE THE WORKOUTS FOR THE HOME OR THE GYM?
Both!  All you need is a set or 2 of dumbbells and a stability ball to do these workouts.  A bench or sturdy chair/coffee table can be used in place of the stability ball.  By using 'free' weight like dumbbells (you can use plates, kettlebells, barbells, etc.) you'll be able to do the workouts anywhere.  Gym equipment is not included because all gyms are different and don't have the same machines.
IS THE FOOD EXPENSIVE OR EXOTIC?
Nope!  All of the foods are easy to find everywhere around the world and affordable.  Plus, when you eat the food according to the program, it helps stop cravings and regulates hunger, too.  Most people save money on their grocery bill following the meal plan.
IS THIS A 4-WEEK PROGRAM?
The meal plan is designed to help you reach your goal weight.  I included 4 full weeks of workouts to help you maximize your metabolism and get toned, too.  It's best to switch up the workouts after 4-weeks because you have 'muscle memory.'  That's also why you'll be able to add on my Mind Right, Body Tight® Coaching Program.  It'll give you ongoing workouts and coaching videos to customize the meal plan and get 4 new weeks of fresh workouts every month.
WHAT HAPPENS AFTER I GET THE PROGRAM?
You'll get instant access so you can get started right away.  Login credentials will be sent to you immediately via email.  Simply login to access the program whenever you want.  The entire program is available via printable PDFs and in your Total Transformation Dashboard so you can see the exercises in action and follow the workouts online using a phone, tablet, or computer.  Note: This is a digital program, nothing will be mailed to you, so you don't have to pay shipping or taxes.
IT'S ONLY $97, THAT'S IT?
Yep!  The Total Transformation Program is a one-time payment to get unlimited lifetime access to the Total Transformation Program and all of the bonuses.  Note:  Follow up accountability and support emails only last 4 weeks, but you get to choose when you want them to start.  If you add on the Mind Right, Body Tight® coaching and training program, you'll get ongoing access to me, as well as the Member's only coaching program, on-going workouts, support forum, and more! 
I CAN WIN CASH?
Yep!
This isn't a traditional 'group' challenge…  It's a prove-I-can-do-this-motivational-boost kind of thing.  
To be eligible for prizes you have to follow the program for 4 weeks, submit your before and after photos, and submit a short survey about your experience that's it.
The challenge is optional and you'll get step-by-step instructions inside the program's dashboard.  You'll be emailed the link you need to 'start' the 4-week challenge countdown.  Once you click it your personal challenge begins.
WHAT PEOPLE SAY ABOUT THE TOTAL TRANSFORMATION PROGRAM
screenshots of emails from Total Transformation Participants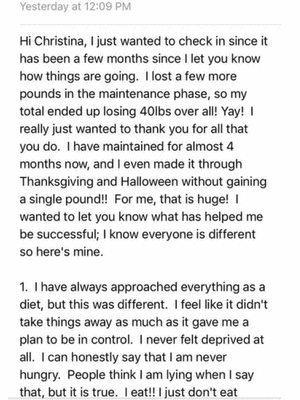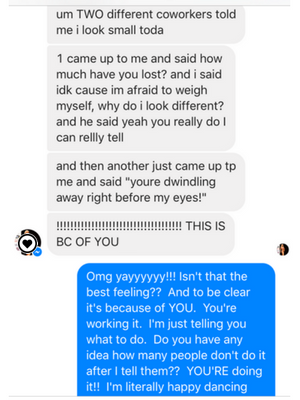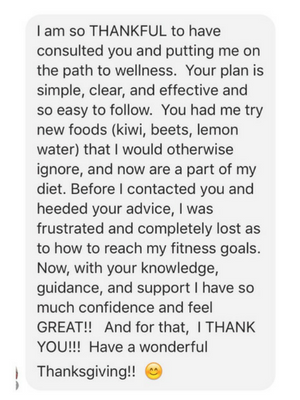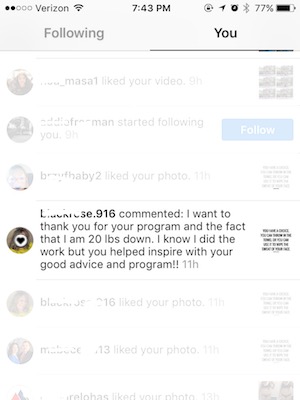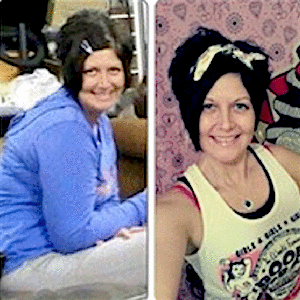 Total Transformation Results
"Your Total Transformation program has single-handedly transformed my body, motivation, and digestive issues.  I've never been more confident, energized, and in control of my eating.  I feel better in my 40's than I have my entire life.  Thank you, Christina!"
DENISE KOSMALA, 42 - FORT MYERS, FLORIDA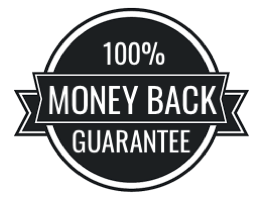 The Total Transformation Program works, if you do.  If you follow the Total Transformation, as directed for 4 weeks, and don't see or feel any results, you'll get your money back.
YOU HAVE NOTHING TO LOSE BUT YOUR UNWANTED WEIGHT
INVEST IN YOUR SUCCESS
GET THE COMPLETE TOTAL TRANSFORMATION PROGRAM & BONUSES, A $997+ VALUE FOR JUST 
$97

RIGHT NOW
WHAT PEOPLE SAY ABOUT THE TOTAL TRANSFORMATION PROGRAM
screenshots of emails from Total Transformation Participants